Day three and I actually finished reading this book yesterday, but was just too flat-out tired to write a review. Let's revisit the rules of the challenge before we dive into today's book. The rules of the challenge are simple: one book for twenty-six days. Every day the title of the book I read has to begin with that specific letter of the alphabet.
We have already visited 'A' and 'B' (posts can be found by clicking the initial) so naturally, todays book is Clique Bait – the debut novel of former Wattpad writer Ann Valett. I had hoped to check the novel out before it reached publishers, and any loyal Wattpad readers will be aware the book was originally penned as The High School Hit List. So when I heard the book had been picked up by HarperTeen, I was pretty excited.

title ♡ clique bait
author ♡ ann valett
genre ♡ young adult; contemporary; mystery, romance
pages ♡ 368
publisher ♡ harperteen
series ♡ standalone
release date ♡ 28 april, 2020 (harperteen)
goodreads ♡ amazon
Chloe Whittaker is out for revenge.

Last year her best friend Monica's life was unceremoniously ruined by the most popular students at their high school, so this year Chloe plans to take each and every one of them down. She's traded in her jeans and T-shirts for the latest designer clothes, erased anything on social media that would tie her to Monica (and blow her cover), and carefully figured out how she will befriend the members of the clique, find out their deepest and darkest secrets, and reveal them to the world.

Chloe has the perfect plan . . . but there's one thing she didn't prepare for. And that's falling for someone she's determined to destroy. The closer she gets to uncovering the secrets the in-crowd is determined to cover up, the more she realizes that she is going to have to choose between betraying her oldest friend or the boy who's captured her heart.
I want to start this review by laying all my cards on the table, and while Clique Bait had a really decent plot to follow, I just felt very underwhelmed. The book follows Chloe Whittaker, high school student hell-bent on providing the schools elite with their just deserts. Don't get me wrong, it's a good idea and while I have come across books like it before, the story was a little unique for me in its setting of a private school. I just felt like a lot of the story didn't progress the way I would have expected it. It wasn't as cut-throat as I'd anticipated – it just felt a little bit tame.
Though I understood why Chloe wanted revenge for her best-friend, I just didn't really like her. She forgot herself along the way of her plot in a cliché kind of way. Her thoughts and feelings are quite unusual and I just did not feel like she could have been a real character at all. Of course, there were very few characters I really liked through-out the story except for maybe Jack. He actually seemed to achieve the goals he set out to achieve. Their personalities felt very two-dimension and there was little character growth shown from anyone. Instead we were told what happened at the end; we don't get to really see it. Monica, the reason for the entire novel, just didn't seem worth the effort. Chloe's friendship seemed completely one-sided and there just wasn't much to like about her. She was a Regina George wannabe and I had absolutely no time for it.
As for the pace and toning of the story, it took me a very long time to get in to this one. I even considered shelving the book after about sixty pages. I wouldn't say I'm glad I continued to reading but I was happy once I had reached the end and had given it the chance it deserved. Admittedly, once I stuck with the novel it was a quick read – only taking about three hours to complete in my second sitting (the first took me about two hours).
The real thing that kept me with the novel was the mystery behind what had actually happened to Monica. Once I'd figured that out around halfway through the book, I stuck around purely to confirm the theory. Clique Bait also seemed to have a strong romantic theme to it; though this was quite warped as I felt the characters had absolutely no chemistry and the real romance between them suddenly came out of nowhere. The whole thing was just very rushed.
Sometimes Wattpad books can go from online to print and improve so much. Unfortunately with this one, it felt like a revised draft of the story. I would have hoped for the story and characters to be developed a lot more before being released – it all just felt very juvenile to me. As a fluffy revenge book then Clique Bait makes the cute. As a serious mystery story then the book just fell short of the line.
Remember that not everybody will have the same opinion! Something that worked for me might not work for you, and visa versa. The whole internet has an opinion, so check out a few others before you decide to dish or ditch this book!
Kirra @ The Bookish Kirra says "I didn't think the big unveiling at the end was very surprising and it was mildly annoying how easily Chloe lost sight of herself early into this book."
Yosi @ Yosi's Blog says "This book is a must read if you love TV shows like; Pretty Little Liar and Gossip Girl."
Mandy @ Devouring Books says "Overall I think it was an entertaining read that touched on some important topics, but it wasn't great."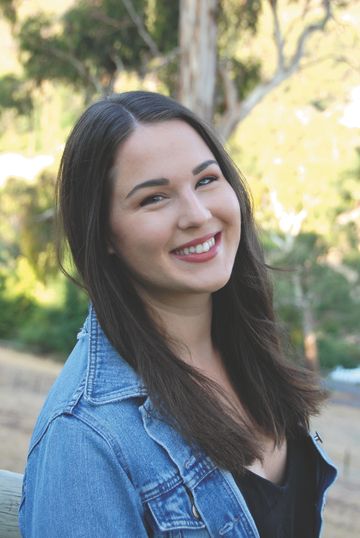 Ann Valett is an Australian author whose fanbase includes over 56,000 followers on Wattpad and counting, with a combined 17 million reads. Along with a passion for writing, she has an interest in engineering and is currently completing her bachelor's with honors while also satisfying her guilty pleasure of dramatic TV shows.
Another book down, another review uploaded! Can you name a book you want to know more about but can't find on my blog? Something stuck on your TBR list? Leave me a comment below and let me know what you think. All read requests are acknowledged and appreciated! Until next time guys,