title ♡ nerve
author ♡ jeanne ryan
genre ♡ young adult; science fiction; mystery; thriller
pages ♡ 294
publisher ♡ simon & schuster
series ♡ none
release date ♡ 28 july, 2016
♡ ♡ ♡ [3 out of 5 stars]
A high-stakes online game of dares turns deadly.
When Vee is picked to be a player in NERVE, an anonymous game of dares broadcast live online, she discovers that the game knows her. They tempt her with prizes taken from her ThisIsMe page and team her up with the perfect boy, sizzling-hot Ian.
At first it's exhilarating–Vee and Ian's fans cheer them on to riskier dares with higher stakes. But the game takes a twisted turn when they're directed to a secret location with five other players for the Grand Prize round. Suddenly they're playing all or nothing, with their lives on the line.
Just how far will Vee go before she loses NERVE?
I'll be the first to admit that I only ever gave this book a chance because of the news that it had been adapted into a movie staring Emma Roberts and Dave Franco. The buzz around this movie was pretty hectic at the time (back in 2016) and even my Dad wanted to see the movie! Lucky for me, my local ASDA supermarket had recently stocked up on copies in anticipation for the new movie, and I happily handed over four pounds for a copy.
We've learned an interesting rule about fame. Those who seem desperate for it are the people that others least want to see.
Vee is that little part of all the shy girls who are hidden in the shadows of their best friends. Those girls who want to break free and be seen as someone other as x's friend. Even though her journey of self-discovery left her on a ride that she would never quite forget, it was really quite interesting to see how far Vee was willing to go. She took a lot of risks, proving herself to be feisty – much to the contrary of her friends. But despite everything she was always true to herself, perhaps one of the most important traits of all.
It was very understandable why NERVE attracted so many young players. In a society where social media has hooked the youth of today, the book has incredibly relevance and Vee will probably click with many teen girls her age. I know for a fact that something like this would definitely pique my curiosity.
Would you want to be a player or a watcher?
Strangely, Nerve reminded me of one of my earlier reads – NEED. The plot is incredibly different and never in my reading history have I come across a plot as strange yet capturing as this one. Whether the movie will keep up the story plot or not, I have no idea. But they should have, and I will be very mad if they haven't. I've already noticed a few changes just through watching the trailer like a billion times.
I adored the mystery and thrill that came from reading this book. Jeanne Ryan keeps you guessing with Nerve and you never quite know what's going to happen until it does. It's not an easy feat to accomplish, so she deserves mad props for that. Also, the cliffhanger at the end is absolutely appalling – even more so considering the fact that the author doesn't see a sequel in the works. Why would you do this?
"Why should I pay to watch when I can be paid to play?"
The dual narration which occurs at the beginning of the novel really does make you curious. Yet certain parts of the book didn't seem to make sense. I would really like for Jeanne Ryan to clear up the mystery of Abigail, Ian and Vee's parents.
Still I will admit that I did enjoy nerve, earning it a cool three out of five. While it was a good book, it wasn't anything to sing and dance about. Also, please clear up the above questions Ms Ryan. 
♡ ♡ ♡
dee x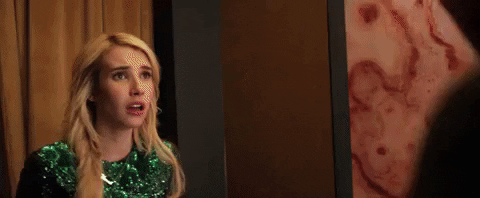 But don't just take my word for it! Every one on the internet has an opinion, so please remember to check out a few others before you decide to buy or discard this book!
Ines Ninous says "It was a very nice read."
Carly @ Books Are My Kind of Thing says "Awesome, just not executed well."
This book has actually been kicking around since 2012, so copies of the book should be pretty much available anywhere! I can't find a lot of good deals regarding the book, but remember to check online second-hand sellers and help save book lives!
amazon ♡ kobo ♡ barnes & noble ♡ the book depository