title ♡ the similars
author ♡ rebecca hanover
genre ♡ young adult; science fiction
pages ♡ 386
publisher ♡ sourcebooks FIRE
series ♡ the similars, book one
release date ♡ january 1, 2019
♡ ♡ ♡ ♡ ♡ [ 5 out of 5 ]

Junior year gets cutthroat when clones roam the halls…
Similar teens: This fall, six new students are joining the junior class at the elite Darkwood Academy. But they aren't your regular over-achieving teens. They're clones. And the "similar" teens are joining the class alongside their originals.
The Similars are all anyone can talk about: Who are these clones? What are the odds that all of them would be Darkwood students? And who is the madman who broke the law against cloning to create them? Emmaline Chance couldn't care less. Her best friend, Oliver, died over the summer and it's all she can do to get through each day without him. Then she comes face-to-heartbreaking-face with Levi—Oliver's exact DNA copy and one of the Similars.
Dark truths and suspense: Emma wants nothing to do with the Similars, but she keeps getting pulled deeper into their clique. She can't escape the dark truths about the clones or her prestigious school. No one can be trusted, not even the boy she is falling for with Oliver's face.
Rebecca Hanover has done the impossible – she's given me a new appreciation for YA science fiction novels. In all my years of reading, I've never quite come across something as wonderful and original as The Similars. It had absolutely everything that I've ever wanted in a young adult book: romance, action and mystery – all in one single book! I was very much on edge throughout the story. Rebecca kept me guessing and guessing again, with shocking outcomes.
Though my knowledge of science fiction books are limited, I've never come across a story such as this one before. It felt so original and interesting that every page had me hooked. The moment I started reading, I knew I was gone. And that's what I wanted – I wanted a book that was going to pull me into the pages and have me running through the halls of Darkwood Academy with Emmeline. I was the rabbit and Rebecca was dangling a carrot in front of me for the entire book – but it was a mutual relationship because I am most definitely in love with The Similars.
It's increasingly rare to come across a story that is completely devoid of any boredom. Even in some of the best known books, I find a chapter or two that just shouldn't need to exist. Every movement of the book was necessary – keeping me absolutely glued to the spot for an uncertain amount of time. The writing was so smooth, so impeccable that I found the book ending long before I wanted it to. The author has an incredibly fluidity when it comes to writing, that for a debut author, appears to be incredibly natural.
Emmaline was a very powerful main character, with an interesting character development arc throughout the story plot. She was feisty and strong, with an unwavering amount of loyalty and bravery. I am looking forward to watching her grow a lot more in the following instalments. Levi was even better – though a tad stoic at times. I loved his whole angsty, mysterious persona and was pleasantly surprised with his own character progression as the plot unravelled. In fact, all the Similars were complex characters that made me fall in love with them.
It was difficult to believe that The Similars is a science fiction book. I'm not exactly sure how it earned that title, as I would much rather agree that the book is more a mystery or thriller type of story. There are some dark moments in the story, and the tone and pace of the story help to keep you guessing at every corner.
Until the next instalment is released next year, I'm going to be stuck in a constant loop of just wondering what the hell is going to happen to Emmeline. This is one of the best books I've read in a long time, and I expect a lot of big things from Rebecca Hanover in the future. But until the next release, I'm going to be tucked up in bed rereading this one.
You should join me!
♡ ♡ ♡ ♡ ♡
Dee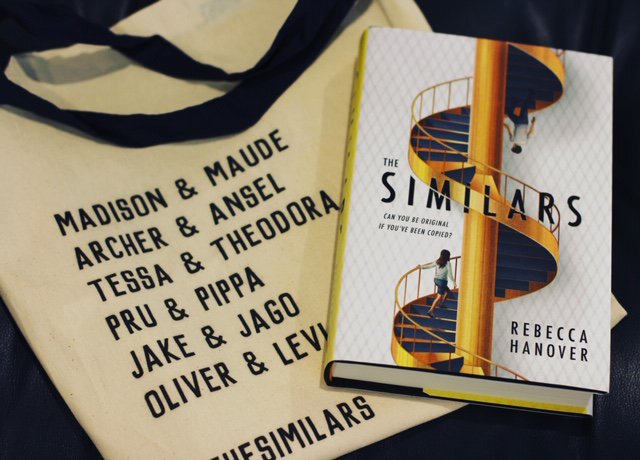 "I would definitely recommend this book to fans of Orphan Black and especially to teens!"

Claire @ Books, Coffee and Repeat
"This was a fast read, but it didn't have much depth to it."

Mandy @ Devouring Reads
"Despite the problems that I mention above, I can tell that the story behind the novel is really unique and I cannot wait to see if there is a sequel for this (which I'm really hoping there is!!)"

Melissa @ The Written Adventure